PROMOTION 10 Magic Butterflies purple pink
Pack 10 Magc Butterflies chf 12.00
The Flying Butterfly® can be used by numerous times
More info about the Flying Butterfly and video below.

More details
Availability: This product is no longer in stock
Availability date:
MFS47
Customers who bought this product also bought:
More info
The incredible Butterfly Magic Flyer® flies out of your mails, cards, brochures, gifts, invitations, wedding invitations, birth announcements and much more….
For any occasions, create the butterfly effect ! Bring magic to your correspondence by inserting a flying butterfly in your mail.  Magic Flyer for a party, a birthday or any celebration.  Send a flying butterfly in your cards and make the buzz everywhere around you. it's the butterfly effect ! Place one or more wound up butterflies inside a book. Be original! Magic Flyer can fly away from many different supports and create happy emotions and surprises.
The flying Butterfly is playful to manipulate and everybody wants to fly it !
Characteristics
Magic Butterfly

Dimensions of the butterfly: 10cm x 9cm
Weight/unit: 1,2g
Magic Butterfly made of a metal body, a rubber band and resistant wings multicolor offset printing paper. The butterfly can be used many times....
Customization

1. the card and the Butterfly are customizable - to see under "Butterfly MagicFlyer Marketing Concept"

2. Personalized double card with 1 flying Standard Butterfly to see under "Butterfly MagicFlyer Marketing Concept"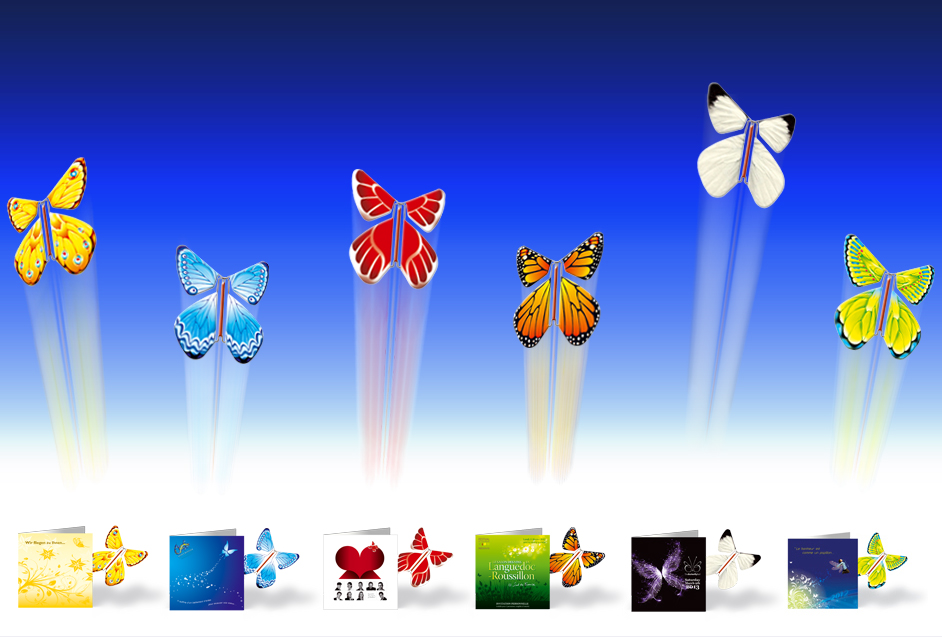 If you have any questions, our sales team will answer you:+41 (0)21 323 03 77 or by mail contact@goliathdiffusion.ch

How it works
Enregistrer
Enregistrer
Comments
No customer comments for the moment.